Recommended Global Pediatrics Webinars & Conferences
Asia Pacific & Middle East
pediatricnursing 2020
About Conference
Details of Pediatric Nursing conferences in 2020 in Budapest, Hungary:
Conference Series LLC Ltd is pleased to invite you to participate in "4th International Conference on Pediatrics, Neonatology and Pediatric Nursing" to be held during Novemeber 16-17, 2020 Budapest, Hungary
| | | |
| --- | --- | --- |
| Conference Name | Venue | Date |
| Pediatric Nursing 2020 | Webinar | November 16-17, 2020 |
Conference Series LLC Ltd organizes 1000+ Conferences every year across USA, Europe & Asia with support from 1000 more scientific Societies and Publishes 700+ Open Access Journals which contains over 50,000 eminent personalities, reputed scientists as editorial board members.
Pediatric nursing 2020 highlighting the theme "Gateway for Developmental Milestones in Pediatrics and Neonatology" provides an excellent opportunity to share views, exchange knowledge and establish research collaborations & sponsoring.
Pediatric Nursing Conference 2020 brings together individuals who have an interest in different fields of nursing and healthcare like psychiatric, cancer, cardiac, critical care, adult & women health, legal, pediatric and emergency nursing, midwifery, public health, care and medicine, drugs from practice, research, administration, policy and education. It is a colloquium to explore issues of mutual concern as well as exchange knowledge, share evidence and ideas, and generate solutions. According to the reports, According to UNICEF, while the child death rate has been dropping in the Middle East since 2000, 415,000 children in the region continue to die every year before their fifth birthdate. Increasing short term & chronic diseases, developing hospitals infrastructure and facilities are leading the growth for the pediatric healthcare in Middle East region. Middle East and Africa region that comprise about 2% of global healthcare expenditure which expected to grow continuously.
Pediatric Nursing Conference 2020 is a global platform to discuss and learn about latest advances in Pediatrics as well as an opportunity to meet the experts in the respective field.
Why to attend
Pediatric Nursing Conferences provide a global platform for exchanging ideas and keeps on updating about the latest innovations in nursing and their Practices. It is very good chance to attend the presentations delivered by Eminent Scientists from all over the world
This is an outstanding opportunity to share your best practice work, research project, or provide continuing education as it relates current issues of journals. The conference offers participants breakout sessions for eminent speakers highlighting clinical projects, education, and current research studies. Nursing is amongst the fastest-growing fields, and it has a robust job market, which makes it very attractive to people in search of a new or first career.
Benefits:
Accepted abstracts will be published in Journal of Neonatal & Pediatric Medicine and provided with DOI.
Global networking: In transferring and exchanging Ideas.
A Unique Opportunity for Exhibitors, Collaborators and Sponsors at this International event.
Target Audience:
Pediatric Scientists
Pediatric Researchers
Pediatric Nurses
Pediatric Associations and Societies
Pediatric Faculty
Medical Colleges
Pediatric Physicians
Data Management Companies
Training Institutes
Software developing companies
Business Entrepreneurs
Manufacturing Medical Devices Companies
Looking forward for this exciting innovation at "4th International Conference on Pediatrics, Neonatology and Pediatric nursing" to be held during Novemeber 16-17, 2020 Budapest, Hungary.
Scientific Sessions/Tracks
General Pediatric Nursing
General Pediatric provides the nursing care to children of all ages suffering from acute and chronic medical and surgical conditions. Nurses are profiled in several acute care departments, surgery wards and intensive care units. It is seen that nurses provide health care needs of all common disorders and educate the patients and their families to develop the quality of life. As per recent surveys, number of child deaths is increasing every year due to lack of advanced health care equipment. Hence Medical Practitioners and nurses are in the front line to reduce the death rates around the world.
The main point of studying General pediatrics is to reduce newborn child and infant deaths, control the spread of irresistible sickness, advanced disease free quality of life and help facilitate the problems of children and adolescents. Doctors are also involved with the prevention, early detection, and management of other problems like behavioural difficulties, developmental disorders, genetic disorders, functional problems, social stresses and depression or anxiety disorders. Significant efforts should be made to improve the physical well-being of the children.
Pediatric Cardiology nursing is responsible for the diagnosis of congenital heart defects, abnormalities in the heart and performing diagnostic procedures such as echocardiogram and electrophysiology studies. Congenital Heart Disease (CHD) is a problem in the structure of heart during the time of birth. The defects may be in the walls of the heart, the valves of the heart, and the arteries and veins near the heart. The symptoms can differ from none to life-threatening. CHD can be caused due to Genetic conditions, taking medications or alcohol during pregnancy, viral infection like Rubella, poor nutritional status or obesity in the mother. Some treatments can be done by catheter based procedures and heart surgeries. Every year, more than 35,000 babies in the United States are born with congenital heart defects.
Pediatric Pulmonology nursing mainly deals with the health care needs of respiratory disorders. Nurses and medical practitioners are specially trained in treating the disease and other chest conditions such as Asthma, Pneumonia, Tuberculosis, Emphysema etc. Asthma is a chronic inflammatory disease of airways in the lungs. Childhood asthma is the impact on children before age 5.This occurs when the airways are inflamed and muscles are swollen then become tightens which reduce the air passage to lungs. Symptoms include episodes of wheezing, coughing, chest tightness, and shortness of breath. It is either caused due to genetic or environmental factors. It occurs few times a day or few times a week depending on the intensity of the disease. In the United States, more than 25 million people are known to have asthma. About 7 million of these people are children. For Childhood proper nursing care should be taken in preventing the Respiratory disorders.
Pediatric oncology is the specialty that deals with the diagnosis and treatment of cancer. Nurse's work with patients who are suffering from cancer during the entire stages of treatment since it was diagnosed. In children the most common types of cancer are leukemia, brain cancer and bone cancer. Treating children with cancer is different from adults. In young ages, the most common viral infection of reproductive tract is Human papillo virus (HPV). Men and Women who are sexually active are mostly prone for infection. Cervical cancer is the most well-known HPV related ailment. Symptoms of cervical cancer can be abnormal vaginal bleeding after sexual intercourse, pelvic pain, weight loss and single swollen leg. Vaccines are developed, which are known to prevent no less than 70% of cervical diseases. In the medical field, Nurses contribute in many roles, a conspicuous one, being a patient instructor. Accordingly, there is a need to rise about the dangers and effects of cancer.
Pediatric Neurology is the study of child abnormalities in the nervous system. Neurology nurse is capable of dealing with health care needs of conditions and diseases related to central and peripheral nervous system. Attention Deficit Hyperactivity Disorder (ADHD) is the brain disorder of neurodevelopmental type characterized by paying inattention and hyperactivity-impulsivity behaviour in children. It affects during teen age then continues to adulthood and persists for lifelong. ADHD is characterized by anxiety, difficulty in concentration, excessive motor activity, burst out answers and feeling restlessness. It is caused by different factors like Genes and heredity, differences in the brain, environmental factors and brain injuries.
Robotic Nursing is one of the alternative advanced technologies assisting to reduce the complexities in health care field. Nursing Staff deficiencies and technical challenges, (such as patient lifting and moving) implies that there is a present and developing incentive to design, create and execute robotic technology in the development of health care. The dependence of Robotic technology in the surgical fields was already established, but there is a need to develop the robotic technology in the delivery of primary health care. Robotic nurses can improve the accuracy and reduce the errors which could be the future of health care.
Pediatric Physiotherapy Nursing
Pediatric Physiotherapy is a branch of sciences that deals with the detection of health problems and treats them by using different modes of therapies. The therapists are primarily involved in the diagnosis and management of infants, children and adolescents related to congenital, developmental, neuromuscular, skeletal, or acquired disorders. The treatments are mainly focused on improving motor skills, balance and coordination, metabolic activities, strength and endurance as well as cognitive and sensory integration. Pediatric physiotherapists treat children with developmental delays, cerebral palsy, spins bifida or torticollis.
Neonatal Nursing requires a high level of expertise, commitment and passion to deal different range of issues such as prematurity defects, birth defects, Infection, heart distortions and surgical problems. Neonatal Nurses are required to know the detailed information of essential infant revival, capacity to control the infant's temperature and procedure of cardiopulmonary and pulse oximetry monitoring. Most neonatal medical attendants administer to new-borns from the time of birth until they are discharged from the Hospital. As per the estimate, approximately 40000 low birth weight infants are born in a year in United States. Neonatal intensive care unit also had a lot of prominence in nursing care.
Nurses play a key role in sharing the knowledge of Immunization. Nurses are the forefront with regards to combating the revival of disorders like pertussis and measles. Immunization is the procedure whereby man is made invulnerable or impervious to an irresistible infection, commonly by the organization of an antibody. Antibodies invigorate the body's own invulnerable framework to secure the individual against ensuing contamination or infection. Vaccination is a demonstrated tool for controlling and taking out dangerous irresistible ailments and is evaluated in saving 2 and 3 million deaths every year. It is a standout amongst the cost effective health investments. It can be delivered through normal activity and does not require any significant life change.
Child and Adolescent Psychiatry or Pediatric Psychiatry is a branch of psychiatry that emphases on the diagnosis, treatment, and prevention of mental disorders in children, adolescents, and their families. Bio-psychosocial factors are explored which influence the development of these psychiatric disorders and treatment levels in different interventions. Various disorders may include psychotic, attention and behaviour, mood, anxiety, eating, gender identity and developmental ailments. Nursing care is involved in various stages since the initiation of the treatment until the ailment is normalized. Nurse should be well knowledge in identifying the behaviour of children and changing the treatment procedure as per their development. Child psychiatry has become the prominent field in the society to decrease the child mortality rate.
Pediatric Nephrology and Urology Nursing
Pediatric Nephrology specifically addresses the need of children who have been diagnosed with kidney Abnormalities. Nephrology nurse primarily deals with the patient care of kidney disease. Nephrology nursing also involves in preventing disease and assessing the health care needs of patients and families. As per American Nephrology Nurses Association, the chronic kidney Disease (CKD) patients are doubled in the last two decades in United States. One of the major parts in kidney disorder is to treat Dialysis. In the event, the patient had a severe kidney disease; Nurse may facilitate their dialysis, explore health needs while waiting for a kidney transplant, and generally endeavour to enhance the quality of life. Statistics say that approximately 27 million adults in U.S. suffer from CKD and that millions more are at risk.
Pediatric Rheumatology Nursing
Rheumatology nursing mainly deals with the primary care of numerous Rheumatic diseases. Significant ailments are Joint pains, vascular diseases, heritable connective tissue disorders and other autoimmune diseases. Treatment for rheumatology adults vary with adolescents. The most important thing in managing trauma related injuries is estimation of weight. Nurses perform duties like monitoring blood pressure, counselling patients, managing medication effectiveness. They also work as patient educators for better living conditions. As per statistics estimating that 54.4 million U.S. adults suffer from arthritis equating to about 25% of the population.
Pediatric Gastroenterology Nursing
Gastroenterology aims with the study of gastrointestinal tract and alimentary canal. Nurses deal with the health care needs of gastrointestinal Infectious diseases. The ailments can range from short term to long term or from acute to chronic conditions. One of the most common conditions in new born babies is Neonatal jaundice. Food allergies are also quite common in childhood. Pediatric Endoscopic procedures are the root methods to rule out the problems of gastrointestinal diseases. In extreme cases, gastrointestinal surgeries are performed to treat chronic disorders. The common diseases associated with pediatric gastroenterology are acute diarrhoea, gastritis, persistent vomiting and problems with the development of the gastric tract.
Dermatology is one of the more specific regions for nurses. A Dermatology nurse expert spends significant time in treating a wide range of infection and restorative issues that show on the surface of the skin. These conditions can shift from skin inflammation to skin cancer and everything in between. Many practitioners find this specialization fulfilling, both professionally and economically. Some minor methods like mole removals, skin peels, or acne medications are done by dermatology nurse professionals. They may also check diagnostic tests and record medical histories. Recently this field has become prominent for nursing in preventing the ailments.
Pediatric Ophthalmology Nursing
An Ophthalmic nurse is a professional that focus on surveying and treating patients with a variety of eye infections and injuries. These can incorporate eye illnesses, visual impairment, astigmatism, partial blindness, farsightedness, glaucoma and macular degeneration. Ophthalmic nurses treat injuries of eye, including scratched corneas. Retinoscopes are utilized to examine the tissues inside the eyeball. Ophthalmic nurses or practitioners may also be required to perform thorough physical examination to uncover possible illnesses. Every year childhood with ophthalmic problems is growing and focus should be intensified to eradicate blindness and eye infections.
Pediatric Otorhinolaryngology Nursing
Pediatric Otorhinolaryngology is a branch of medicine that emphasizes on the childhood problems of Ear, Nose and Throat. Otorhinolaryngology nurse deals with caring of patients having ENT problems. Nurses treat both acute and chronic problems which include ear infections and allergies as well as genetic abnormalities and injuries. The commonly associated problems are laryngitis, cancer, sinusitis, tonsillitis, sleep apnea, and trauma such as broken bones. Nurses generally assess patients through physical examination and then listen to patient complaints and symptoms. Nurses should also be familiar with medical imaging machines, such as e x-ray machines and CAT scan machines. Some infections can be treated by using antibiotics and in case of severe problems, treatment may require surgery. Otitis Media is a kind of inflammatory disease occurs in Middle ear. Acute Otitis Media is an infection that happens suddenly with ear pain. About 11% of the people are getting affected with this ailment every year.
Pediatric Nursing in Dentistry
Pediatric Dental Nursing is one of the most prominent fields who take care of dental problems in children. The most common disease is the Tooth decay which starts early during 8 years of age. Microorganisms present in the mouth form a plague and release acids by dietary carbohydrates which decalcify the tooth enamel and causes decay of tooth. Children must visit health care for every 6 months of their age suggested by American academy of pediatrics. As per the national health survey 42% of the US children from 2 to 11 years of age have the decay of tooth in their primary teeth. Dental treatment from adults is different to childhood where we need to identify the psychology of children in delivering proper care and well-being of the child.
Genomic or Genetic Medication, now and then otherwise called customized drug, is an approach to tweak therapeutic care to your body's kind of hereditary structure. Each of the cells in the body contains DNA; the atoms you acquire from your inhabitants decide how your body looks and built. DNA is orchestrated like a twisted ladder, with data incorporated in a planned manner. Segments of the DNA contain data likely to make proteins are known as Genes. The whole structure is the Genome. Nurses have knowledge in learning of the patient's, family's biologic information and ability to correlate the genomic data which gives better understanding in administering the medicine as per their biological structure.
Nursing in Obesity and Weight Management
Childhood Obesity is a condition where abundant muscle fat deposits influence adversely the kid's wellbeing or wealth. As strategies to decide body fat are troublesome, the analysis of obesity is frequently viewed in BMI (Body Mass Index). Higher rates of weight are accounted in Native American, African American, and Latino children. The effects are due to less physical activity and poor life style. The health problems may include like hypertension and dyslipidaemias, femoral epiphysis, sleep disorders, Type II diabetes, gall bladder disease, and mental health problems. Nurses take opportunity to create wellbeing programs or potentially welfare social environment to reduce the effects of obesity. The rate of child obesity has expanded significantly amid the previous couple of years: 54% of kids in the vicinity of 6 and 11 years and 39% for kids in the vicinity of 12 and 17 years.
The nursing in exercise and sports medicine has given a valuable prominence in the current society. It will acquaint the key ranges relating with games and exercise drug, specifically musculoskeletal and sports injuries, physiology, brain science, and the advancement of physical action to forestall and treat illness. Sport medicine is the field of medicine deals with sustained sports injuries and illness impacting sport performance. It not only deals with diagnosis and treatment, but also emphasize on the prevention and management of injury. Exercise science is the field where the care was taken for the fitness of the sports person both physically and mentally. The overall performance of the athlete also depends on physician and nurse.
Medical Ethics and Health Policies
This is a discipline majorly deals with the basic principles of health care, public health and government role on health care. Now a day's confusion is created in delivering high technology medicine, organ transplantation and in improving quality of life. Medical ethics are the rules that should be followed by every health care professional in order to reduce the conflict of interest. These ethical principles are made by group of physicians, nurses, lawyers and other health care professionals. Health policies are the procedures which may get updated day by day and can be considered as compilations of guidelines for medical practitioners, pharmaceutical companies, researchers and medical Insurance companies.
Pediatric Nurses are aimed to deal with the nutritional needs of children and young people. Children's physical and mental growth mainly depends on the vitamin and nutritional supplements during their young age. Patients frequently experience lack of appetite which can be aggravated by nausea and vomiting, microsites, stomatitis, taste changes, constipation, diarrhoea, pain, fatigue and metabolic abnormalities. The emotional effect of diagnosis and treatment may also end in psychological factors such as depression, fatigue or anxiety which can hinder by dietary intake. Child friendly food provision, protected food meal times are the better ways in coping the nutritional needs of children. Poor nutrition leads to weight gain as well. Hence child nutrition has become prominent in refining the wellness of the child.
Market Analysis
Market Analysis Report:
Pediatrics nursing 2020 welcomes attendees, presenters, and exhibitors from all over the world to Abu Dhabi, UAE. We are cordially invite you all to register and join us at " 4th International Conference on Pediatrics, Neonatology and Pediatric Nursing " which is going to be held during June 10-11,2020 at Abu Dhabi, UAE.
Global Pediatricians Industry 2019 research report signifies the detail overview of current market State, Size, Share and forecast 2019-2024. The Market of Pediatricians 2019-2024 report analyzes important features in key developing markets. The analysis consists market size, current trends, drivers, threats, opportunities, as well as key market segments. The fetal and neonatal care device market is projected to grow from an estimated USD 6.4 billion in 2018 to USD 8.4 billion by 2023, at a CAGR of 5.7% during the upcoming period. Growth in the fetal and market is mainly driven by the rise in number of infants and low-weights birth infants, growing number of NICU admissions, and increased awareness of neonatal and fetal care across developing nations. The neonatal intensive care market is separate on the basis of product type including respiratory devices, infant warmers, convertible warmer & incubators, incubators, phototherapy equipment, neonatal monitoring devices, catheters, and others. Respiratory devices segment is leading and can continue its lead in the upcoming period.
Incubators segment is assumed to be the largest contributor to the neonatal care devices/equipment market in 2018.The large share of the Incubators segment can be attributed to Development of novel neonatal incubators, rising incidence of neonatal hypothermia, and increasing number of NICU admissions. Hypothermia is common in infants born at hospitals (annual prevalence range 32% to 85%) and homes (annual prevalence range 11% to 92%), even in tropical environments (source: BMC Medicine 2013), and is among the reasons for neonatal mortality.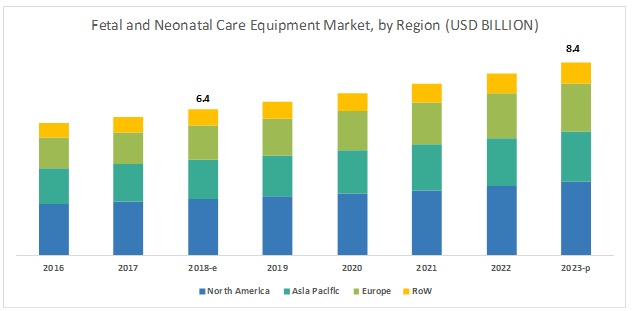 Neonatal medical care Market 2019 Report cowl elaborate competitive outlook as well as the market share and company profiles of the key participants operational within the world market. The infant medical care market report provides Associate in Nursing in-depth summary of Product Specification, technology, product sort and production analysis considering major factors like Revenue, Cost, Gross and Neonatal medical care units (NICU) area unit a mixture of advanced technology and trained health care professionals WHO give intensive medical attention to newborn babies admitted into the special division infant babies admitted to the NICU area unit premature, have low birth weight, or have a medical condition that needs special care. Newborn babies with medical conditions like heart issues, infections, or birth defects are cared for within the NICU. Rising awareness levels regarding offered antepartum and infant care instrumentation and high birth rate in developing regions of the globe propel the infant medical care market globally.
New analysis report on "Neonatal Associate in Nursingd antepartum Devices Market" 2019-2024 could be a skillful and in-depth analysis offers an outline of this market standing, historic, and expected means forward for the infant and antepartum Devices market. Infant and antepartum Devices market report on the world's major regional market conditions, specializing in the most regions. Infant and antepartum Devices market report offers an intensive analysis of infant and antepartum Devices business to guide market players, new entrants and investors to induce opinion of infant. As per the scope of this report, fetal observation devices area unit important tools that area unit habitually utilized in gynecology and medical specialty interventions to look at fetal infant devices area unit extensively utilized in the infant medical care Units (NICUs) wherever complicated machines and observation devices area unit designed for the distinctive desires of small babies. The market is segmental by product sort and geographic. The key factors for the expansion of the infant and antepartum devices market embody the rising incidence of preterm births, increasing awareness for antepartum and infant care, and government initiatives to produce higher take care of antepartum and infant infants. Premature babies area unit babies born before the mother reaches the biological time of thirty seven weeks. Reckoning on however premature the baby is, there area unit sure organs, which might be underdeveloped, like canal, lungs, system, and even skin in sure cases, wherever the demand of incubators for his or her survival is inevitable. The preterm births area unit quite common rounds the world, no matter developed and rising markets. Globally, regarding over one in ten pregnancies area unit probably to finish up in preterm birth. Some statistics show the growing burden of premature babies and the way it will increase the demand for incubators. As per Tommy, a charity funding analysis cluster, about 60,000 babies area unit born untimely every year within the United Kingdom of Great Britain and Northern Ireland, that constitutes regarding seven-membered of the births within the United Kingdom of Great Britain and Northern Ireland. There area unit growing complications from premature birth, that is one in all the key explanation for deaths., as per the Centers for malady management and bar (CDC), preterm birth affected regarding one of each ten infants born, in 2016.aside from that, there area unit many maternal factors, that raises the importance and demand of the infant medical care Unit (NICU), like age younger than sixteen or older than forty years, addiction cases, diabetes, cardiovascular disease, bleeding, sexually transmitted diseases, and multiple pregnancies among others. Of these factors area unit driving the demand for the fetal and infant care instrumentation market, globally.
A major challenge the pediatric health care community faces is in regard to Medicaid funding.
Whereas the price of health takes care of most youngsters is a comparatively low, person who need hospitalization or specialty care expertise an amazing increase in total value.in addition, with a spotlight on preventative drugs, a lot of resources got to be allotted to pediatrics. Medicaid funding for kids estimates concerning twenty p.c of total funds, nonetheless kids compose concerning sixty p.c of enrollees.
Typically, nursing homes and gerontology utilize the foremost Medicaid bucks except for a far smaller population whereas health care reform is associate current issue, the distinctive desires of kids got to be enclosed.
To Collaborate Scientific Professionals around the World
Conference Date November 16-17, 2020
For Sponsors & Exhibitors